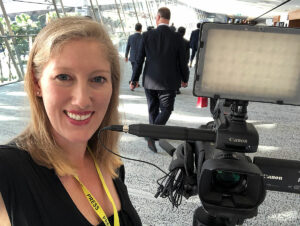 It's very difficult to give a single cost for a video, as there are so many different elements that go into video production.
One benefit I offer is that with my background as a TV reporter and business journalist, I'm able to act as director and producer for no additional fee.
Below is a guide to the probable range of cost for a three-minute video. You may also wish to consider my one-day InstaConference package.
Item
Description
Cost*
Project set up
This includes an hour of initial consultation (usually by phone) when we discuss the project and possible approaches
$200+GST
Scripting and storyboarding
This involves writing or consulting on any script, as well as storyboarding it: establishing what shots will be used to illustrate each part of the video. You may not require this if you are doing it yourself, or if the project is largely interview based.
$100+GST/hour
Filming
Filming interviews and b-roll (based on Sydney metro location/minimal travel time)
$550+GST/half day, $850+GST/full day
Editing
This involves putting the video together, editing interviews, adding overlay, titles, graphics, music.
$500-$1000+GST per edited minute
Re-editing
Every project includes one free re-edit. Any re-edits due to a mistake on the editor's part are fixed for free.
$200+GST/edit (includes 1 hour work), $100+GST for subsequent hours
*All prices are in Australian dollars/AUD
From this, you can see that a simple three-minute video, requiring a half-day shoot and no scripting, will start from around $2,200+GST.
Q – What equipment do you use?
I use a Canon XA20 camera which shoots HD video that is ideal for TV broadcast or YouTube/website use. If you need to film for a large outdoor display, you may require 4K UHD (Ultra HD) – there are other video production agencies in Sydney that provide this. I use professional grade AudioTechnica and Shure microphones (tie-clip and handheld).
Q – How can I keep costs down?
By knowing what you want, providing all materials (logos, graphics, existing video footage) and any style guidelines (font, colours) in advance, and limiting re-edits. The main cost blow-outs come with re-editing.
Q – It's still beyond my budget
You may be able to find graduate videographers who can do an amazing job for less. I would suggest reaching out on a site like Airtasker which has many lower-budget freelancers.
Another option is my InstaConference package – a one-day service that covers your event, with fully-edited videos, for an introductory price $990+GST. See here