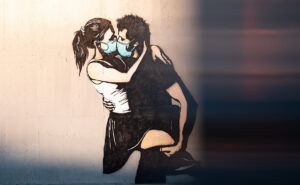 There's a marvellous book, published during the Second World War, by the editors of a food and wine magazine, titled "We Shall Eat And Drink Again". While Britain struggled through dark years of increasing privation and rationing, food lovers dreamt of a time when gastronomy would be back on the menu.
Their response was to write accounts of memorable feasts in the past, and compile them into an anthology.
As we live through a similarly strange and uncertain time, many of us will be expressing our struggles and emotions through writing. This may take many forms: from wistful nostalgia about the pre-pandemic era to poetry and escapist fiction. For some, hopeful, happy-ever-after fantasy will be the chosen way to deal with the crisis. Others may channel their struggles through bleak, post-apocalyptic tragedies.
But we keep creating. It is what humans do. Even at the peak of the global financial crisis just over a decade ago, there were businesses innovating and expanding and above all, surviving.
One of my favourite stories in the 1944 anthology is titled "Gay 'Nineties", written by a Major Cyril A Drummond. The title and author name are no small part of the charm. Major Drummond writes of gentlemen's clubs and restaurants in the 1890s, along with the many wines and spirits drunk, including a 1789 cognac.
"London has changed considerably since the 'Nineties. There were idle young men of greater or less means, officers on leave and the like, who had time for philandering. No man was ever seen in Piccadilly, Bond Street, or the in the fashionable West End, dressed otherwise than in a tall hat, frock or morning coat…Ladies were never seen in these streets except during the afternoon, in their carriages. It was another age – delightful in its way."
2019 is already "another age". COVID, because it will change the world permanently, is drawing a stark line between the past and present. In 2019 people travelled, flew around the world and took cruises in a way they will probably never do as freely again in our lifetimes.
We think of Agatha Christie's "Death on the Nile" and "Death in the Air" as vintage novels with their depiction of travel in a bygone era. Smoking on a plane, seated at tables across from other passengers, train carriage-style? And now, contemporary novels such as "Cruising for Love" and "Santa Cruise" will be making the transition from "today" to "back then". 
Back in 1944, André L Simon writes:
"Whatever may be the duration of the war and its cost, two things are certain: the first is that we must win and be free; the second is that we shall all be poor."
This poignant prediction may be mirrored in the current time. We will come out the other end of COVID, and we will "eat and drink again" as restaurants reopen and we are once again allowed to socialise. But many people will still be without jobs, many will have lost loved ones, and many will remain in very straitened circumstances.
"We must wait and hope," Simon continues. Which is all we can really do today. We can wait and hope, and we can write.